Cargo Shipping
Please direct any additional questions regarding cargo shipping and equipment importation to:
cargo@robocup2012.org
We are recommending the following freight forwarder supplier to bring your Robot to Mexico:
• NAIB Group Fair Division México
NAIB Group Fair Division México S. A. de C. V. is pleased to announce our services in Customs Brokerage, Transport and Handling.

Contact us:
Ph. +52 (55) 5769-7415 Ext. 105
+52 (55) 5769-7416
Fax +52 (55) 5714-7297
E-mail: edgar.gonzalez@naibgroup.com.mx / rene.carvajal@naibgroup.com.mx

NAIB offers an outstanding package of services which includes the following:
Coordination Of pick-up Of shipments from exhibitors's door
Economical and appropriate shipment to Mexico
Temporary or Permanent importation formalities
Delivery of shipment to exhibitors's booth
Transportation specialists on site to assist exhibitors
Post show re-exportation formalities
Liquidation of temporary import entries
Shipment to ultimate destination
Estimated time for the deliverance of your Robot once it is at the custom of the International Airport of Mexico City.
DEADLINE DATES
Air Freight Shipments – Airport Mexico City
10 working days before delivery to the Venue,
last recommended day to arrive June 4, 2012
Notes: Please consider the delivery time of documentation with your local agent and also shipment time according with their geographical area.
Please consign to:
NAIB Group Fair Division México S. A. de C. V.
Benito Juárez # 41, Col. Urbana Ixhuatepec C.P. 54190.
Tlalnepantla de Baz, Estado de México.
Tel. (52) 55 57 69 74 15 / 16
Attention: Edgar Gonzalez
Customs Documentation:
Commercial invoice / packing List.
Certificate of Origin.
Catalogue of the product
Airway bill or BL
ORIGINAL certificate of treatment for wood products
Fumigation certificate for wooden packing
Additional Documentation may be needing according to your shipment requirements like; Certificate of Origin, , Free Sales Authorization, Health Certificate, etc., however you personal NAIB Agent will guide, help and inform you on time.
During the Show
A NAIB representative will visit you on your Stand in order to attend all your needs. Even does the return is arranged our policy is to double check on the case goods need to stay in Mexico, send to another exhibition, or any special instruction.
Other Important Consideration
If you cannot have either documentation of goods with the mentioned deadlines, pls. contact your NAIB agent in other to propose different options
Packing
For all the merchandise send to Mexico as per rule this needs to have the revision at Mexico Customs area, we suggest to pack your goods on plastic / wooden pallets or crates not carton.
Please send the key / combination of the lock along with the goods.
In case that you have crates or wooden pallets the wood must be fumigated with Methyl Bromide (MB) or a heat specific treatment (HT). If this is the case that you have crates or wooden pallets, you need to send the fumigation certificate and these must be stamped as: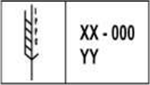 SHIPPING TERMS
All air and Land shipments have to be shipped on terms "Prepaid".
All shipments arrive on terms "freight collect"; a 15% will be charged on the amount paid out.
BL should be send EXPRESS RELEASE.
GOODS INSURANCE
All goods must be sent with insurance, NAIB is not responsible of damage / lost items caused by airlines or sea / land shipping lines, please send a copy of the insurance
PAYMENT TERMS
All expenses resulting from customs formalities, handling and transportation must be paid to NAIB Group Fair Division México S. A. de C. V. before goods shipping back to their country of origin.
Except in cases where a previous payment agreement has been arranged.
CUSTOMS CONSIDERATIONS
Every shipment arriving in Mexican customs must go through a detailed inspection of the goods in which crates are opened and what is within is compared to the packing list, in this procedure some goods are repacked in a different way or not even repacked at all; this inspection happens when shipments go through "red light" at customs, otherwise goods with "green light" are just slightly checked specially serial numbers only. The selection of shipments to be checked or not depends on Mexican customs, NAIB Group Fair Division México S. A. de C. V. is not involved or responsible in this selection.
According to the 138 article, section II of the Mexican Customs Law Regulations, there will be no need to prove the returning to origin, when the unit price is up to 45USD, only when goods show a label of the show to which was aimed; and up to 20 USD when the goods show a label of the importer, exhibitor or sponsor, always that the goods are different to the ones that are to be sold at show.
All Temporary goods need to be returned to origin through us in order to cancel the documentation at customs, if goods remain in the country or you take your goods along in your flight, duties and taxes will have to be paid
PRODUCTS SHIPPING
Every wooden item (either product or crate) needs special certification at customs, please mention to your NAIB rep. if the wood is new or used.
Please pack each product on a package; for instance: pens in a single box, etc. this is in order to safe time at customs clearance.
A CONTACT IN YOUR COUNTRY OF ORIGIN:
If you need help to ship your goods directly from a company in origin, please send your country and city on an e-mail to: laura.gonzalez@naibgroup.com.mx who will give you detailed information of the company to reach.
Please address any inquires to the attention of:
NEW AGE OF INTERNATIONAL BUSINESS, S.A. DE C.V.
www.naibgroup.com.mx
Contact: Edgar González or Rene Carvajal
E-mail: edgar.gonzalez@naibgroup.com.mx / rene.carvajal@naibgroup.com.mx
Ph. +52 55 5769-7413 or +52 55 5769-7416
Fax: +52 55 5715-6624